Hot
New
-21%
In stock
Pre-order
Out stock
EIGSHOW Beauty 8pcs Makeup Brushes, Featuring Angled Eyeliner Brush, Foundation Brush & Beauty Blender with Case & Brush Cleaner - Gift Kit
Hurry! Only 97 Left in Stock!
Order in the next to get it by
Real time
21
visitor right now
PRODUCT INFORMATION
Shipping & Return
FAQ
PRODUCT INFORMATION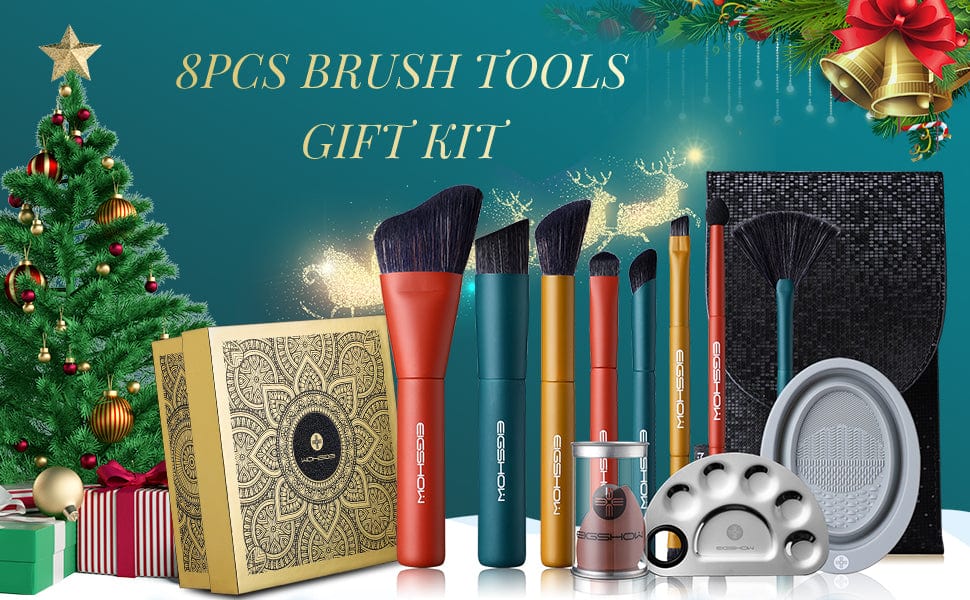 We promise: This delightfully small brush tools kit will be a big hit this holiday season. The eight-piece set from EIGSHOW includes the beauty brand's bestselling items—a wave-shaped powder brush, angled foundation brush, angled highlight diffuser brush, 3D precision concealer brush, blending brush, smudge/liner brush, dual-ended sponge brush, small fan brush, and also includes a color palette, beauty blender, silicone brush cleaning tool. Treat yourself or give it to a friend, this brush set is a star gift for the season!
Unlike other cheaply packaged makeup brush sets, this brush comes in a luxurious, beautifully packaged gift box, making it the perfect gift for beauty lovers!
This brush kit comes with a super chic pouch with eight mini travel-size brushes for both your face and eyes, allowing you to easily store all your essentials in your purse or carry-on.
Comes with detailed instruction manual,so you can easily get to know what is each brush used for and easily recognize them.
Wave-shaped powder brush = apply all over the face tapping off excess powder and the intricate wave design perfectly contours to your features. A perfectly made brush just for you.
Angled foundation brush = the dense angled foundation brush delivers excellent application with its precision tip. Start at the middle of your face and blend outward and upward. The angle helps to blend and buff. Ideal for cream and liquid products.
Angled highlight diffuser  = this diffuser is perfect for highlighting and enhancing your look. Apply powder highlighters and finishing powders all over the face.
3D precision Concealer brush = you'll Never need to switch brushes to apply those small micro areas of your face. Blend product into your face with ease yet ensuring an even distribution, removing blotches. Use with your favorite concealer or foundation.
Blending brush = utilize color in your eyelid crease with this fluffy blending brush to diffuse eyeshadow and easily apply multiple shades on top of one another for that defining smokey eye look.
Smudge/Liner brush = this innovative dual brush firstly allows application of wet/dry mineral eyeshadow with the firm precision angled eyeliner brush. Then you can take that look and smudge softening the eyeshadow or eyeliner.
Dual-Ended Sponge Brush  = Use the larger end sponge brush to first apply your creamy, metallic, and glitter shadows. Then use the triangle smaller shaped sponge to define adding that intensity to your look. Creams and liquid-based products adore this brush.
Small Fan Brush = Add a diffused look by using this fan brush to pick up the product and accentuating the cheekbones, brows, and cupid's bow for that sexy natural glow.
Beauty Blender Double - Every WonderGlam makeup brush set comes with a beauty blender. Use the beauty blender flat edge to apply a large area with liquid foundation and then use the pointy end to give an even finish over your faces contours.
Makeup Bag - Keep your makeup brush set easily organized with the WonderGlam makeup bag. Separate your liquid makeup brushes from your brushes used with mineral powders to preserve brush life longer.
Color Palette - Experiment with your creativity by using our colour palette blender to release your inner Picasso. Effortlessly blend your makeup products to create that new defining look.
Silicone Brush Cleaning Tool - Lastly every WonderGlam 8pcs makeup brush set comes with a makeup brush and beauty blender cleaner. Use the specially designed contours to quickly clean both liquid and mineral beauty products
The EIGSHOW WonderGlam set comes in a stunning gift box with a card insert to write that something special to your friend or family member. Whether you are a beauty professional or creative makeup enthusiast use this pro brush set to redefine your look.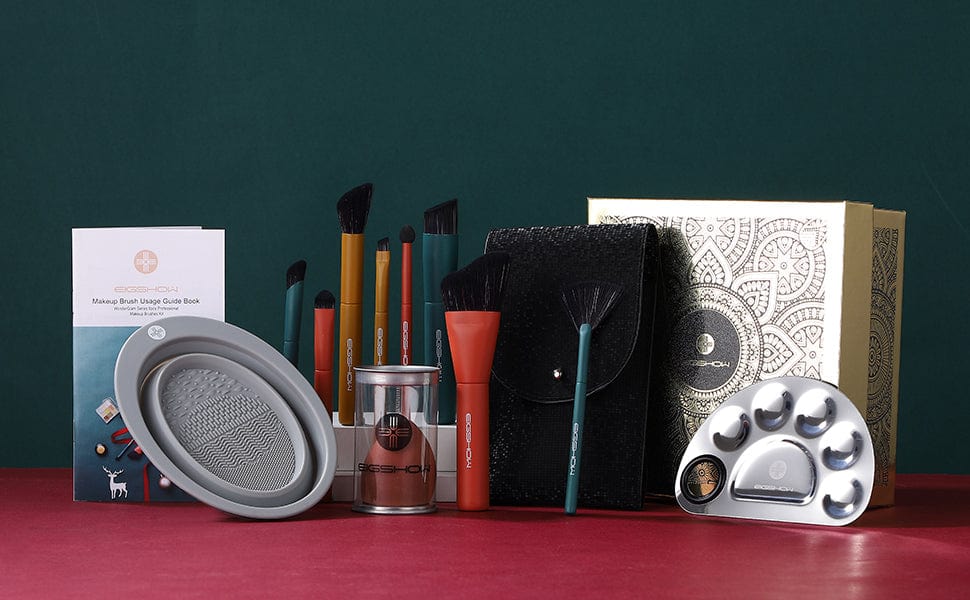 Shipping & Return
What's your shipping method and what is the cost?
EIGSHOW Beauty aims to create the best quality makeup tools and ensure that upon purchase they arrive at you quickly and efficiently. We have comprised below a shipping policy based on ensuring you get competitive rates for your order alongside fast delivery from our worldwide fulfillment centers, with worldwide logistic brands you trust.
Below are the regions we support alongside the rates and FAQ's for shipping and returns. All prices are stated in US Dollars, but should the value of your order in your native currency equate to the same in US Dollars, you will be eligible for free shipping should we offer that service in your country/region.

North America
We offer free shipping for all orders over $30.00 in the continental United States and Canada and if your order total is below $30.00 we charge a standard shipping fee of $6.00

Europe
For Denmark, Czech, Finland, France, Germany, Hungary, Iceland, Ireland, Italy, Netherlands, Norway, Poland, Portugal, Romania, Slovakia, Slovenia, Spain, Sweden, United Kingdom, Switzerland, we offer free shipping for all orders over $30.00 and if your order total is below $30.00 we charge a standard shipping fee of $8.00. This rule applies to equivalent currencies.

Asia. 
We offer for China, Japan, The Autonomous Region of Hong Kong and Macau a standard shipping fee, if your order total is below $30.00 we charge a standard shipping fee of $6.00. If your order total  is above $30.00 we offer free shipping. This rule applies to equivalent currencies.


How do I track my order?
Once your order ships, we will send you an email include the tracking number and tracking link of your specific shipper. You can check your order status there.
What countries do you ship to?
We ship worldwide and a full list of the countries where we ship to is available on the Payment Page. You can click on the Country drop-down window to check the list.
What to do I do if my package arrived damaged/incorrect? 
If you receive damaged or incorrect package, please contact us immediately and we will have it replaced as soon as possible.
What is your return policy?
We have a 30-day, hassle-free return or exchange policy. If you aren't totally satisfied with your purchase, you can return it for full refund or exchange.
How do I make a return?
To make an return, you just need to follow the simple steps below
Contact us info@eigshowbeauty.com within 30 days of order receipt to get an RA#. Write the RA# on a note and ship the item back to our return address. Once we receive the returned item, we will process the refund/exchange immediately.
Please note the item must not be used, altered, or washed with all of the original labels attached. And the refund will be credited to the original payment method.
Do you offer exchanges?
Yes, we do offer exchange. Exchanges are for one time use only, which means you can only return the item for an exchange one time. If you are still not satisfied with the exchanged items, you can then only return it for a full refund.
FAQ
Contact us at:
info@eigshowbeauty.com
Do you offer FREE shipping?
Yes, we offer FREE shipping for THE US, UK, EUROPE, CHINA & JAPAN ON ORDERS OVER $30.
Do you ship to PO Boxes?
Yes, we ship to PO Boxes, but you must choose the Standard shipping method. Selecting Upgraded or Express will delay processing and change your shipping method to Standard.
Do you ship outside of the USA?
Yes. We ship internationally and provide a variety of logistical services to suit your demands. Please visit our Shipping and Returns page for full comprehensive pricing and duration.
Customers located outside of the US must have a matching billing and shipping address. Your order will be canceled if your international addresses don't match.
Conversion and import fees don't apply to international orders. However, if you live outside of the US, your financial institution or country of residence may charge additional fees on top of your total, such as conversion or import taxes/customs fees. Eigshow can't credit you for these fees since they come from your financial institution or country. Please call your financial institution or customs office before placing your order to confirm what kind of charges you can expect from them.
Do you accept Visa, Mastercard, or American Express gift cards?
Yes, however because we have a secure cart checkout, your "billing" address must be verified. This means that you must register your Visa, Mastercard or American Express gift card online with the issuing bank including providing them your mailing address in order to use gift cards. Otherwise, your order may be declined even if the gift card is valid and active.
Why is a coupon code not working?
Coupon codes will not apply to discounted EIGSHOW items , some collaboration items and non-EIGSHOW products. Coupon codes have expiration dates.
I recently purchased an item online and now it's discounted. Can I get the discounted price?
Pricing on the website is subject to change without notice. Orders placed before promotions are not eligible to receive new promotions or discounts. We reserve the right to cancel any order due to unauthorized, altered, or ineligible use of the offer, and to modify or cancel any promotion due unforeseen issues.
My item arrived damaged. What should I do?
We understand that you may receive damaged items due to transit. If a product is defective or damaged, this must be reported within 30 days of delivery or receipt of order in person. If the product is deemed defective EIGSHOW will replace the product at no additional charge to the customer. Please contact customer care for more details at info@eigshowbeauty.com or via social media messaging.
How do I cancel my order?
To serve you better, EIGSHOW will begin to process your order immediately after it has been submitted, and we are unable to change or cancel an order once it has been placed.
Do you offer free samples?
We do not offer free samples at this time.