What brushes do Makeup Artists Use Most? | EIGSHOW Beauty
تم النشر بـ EIGBEAUTY ADMIN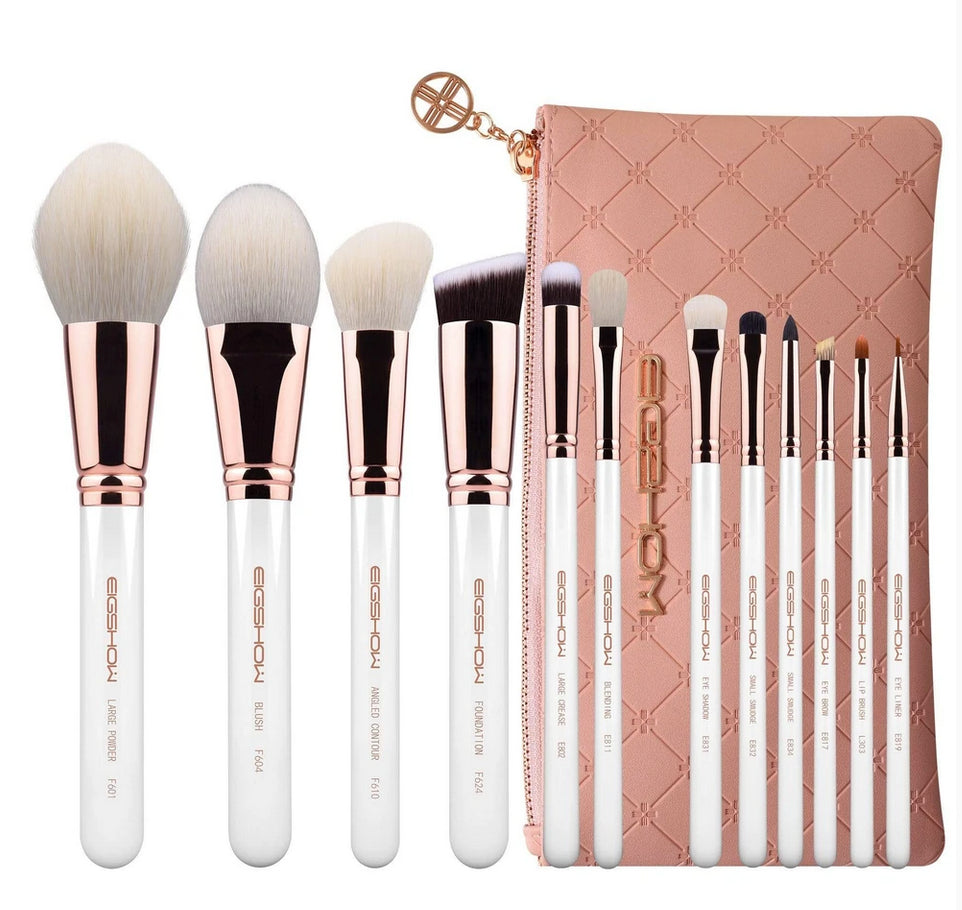 As any good artist will tell you, you need the right kind of brush for each and every stroke that makes up a masterpiece. The same holds true even when the canvas is not paper but a person's face, since applying makeup is an art and science of its own.
If you are thinking of making a foray into the world of makeup, and are daunted by the sheer variety of brushes available, don't fret. Here are all the types of makeup brushes that professional artists use.
Powder Brush
The powder brush, as the name suggests, is a soft brush for gently dusting powder products across the face. Thick and full-fibered, this brush is well suited for applying both pressed and loose powders without overwhelming other products.
Tapered Foundation Brush
Tapered foundation brushes are what you use to apply a foundation or a highlight. Its flat, gently tapered brush is ideal for applying an even coat of foundation or other liquid products.
Stippling Brush
The stippling brush comes in handy when you need to layer the different levels of makeup and blend it into a flawless, airbrushed look. This brush is easily recognizable by its 'uneven' appearance; longer fibers are interspersed between the tightly packed smaller bristles.
Kabuki Brush
Similar to a powder brush, the kabuki brush is great for applying loose powders on both your face and your body. The larger size helps in dusting body shimmer in places like the décolletage.
Contour Brush
Contour brushes are one of the most 'technical' brushes out there, which require some level of skill to use perfectly. This angled brush is meant for defining your cheekbones and contouring your facial structure.
Concealer Brush
To give some special attention to the problem areas of the face (dark spots, discoloration etc.) you will require the soft and pointed tip of the concealer brush.
Bronzer Brush
The soft and rounded bronzer brush is best for the smooth application of color. Its bristles are designed to pick up color and diffuse it over the skin evenly.
Fan Brush
This distinctive brush is perfect for removing excess powder or flecks of misapplied color. You can even use it to lightly sweep a soft layer of powder on the face.

Blush Brush
When you want to apply blush on the relatively smaller area of the cheeks, you rely upon the aptly named blush brush. Stubbier and more compact than a powder brush, the blush brush works well in building color without harsh lines.
Thanks for taking the time to read our blog post on what our makeup artists in house use most. Have a wonderful day, and as always leave a comment, like or share. Collection 2019 Sale 70% Off Title for image